The Vector CT1 is a sidearm in use by the United Citizen Federation during the Second Bug War.
During the John A. Warden Incident, Captain Carmen Ibanez carried a Vector CT1 when being pursued by a Plasma Grenadier Bug onboard the John A. Warden.
Level of Technology
Edit
Semi-automatic handgun.
Closed bolt, delayed-blowback patented Super V System.
Advanced metal components: A2 and 4340/4140 chrome-moly steel alloys heat hardened/manganese phosphate treated with aerospace 7075/6061 hard-anodized aluminum alloys.
Aerospace polymer components: Lightweight injectionmolded housings of 15% fiber-reinforced Ultramid (tm) Nylon 6/6 composite alloy treated for toughness.
Specifications
Edit
Caliber: .45 ACP (230g FMJ recommended)
Magazine capacity: Std. 13-round mag. Optional 30-round MagEx.
Effective firing range: 150m
Rifling: 16:1 twist
Length of weapon: 406 mm
Barrel length: 150 mm
Weight unloaded: 2.44 kg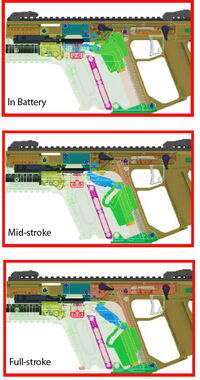 The Vector CT1 has a resemblance to the KRISS Vector SDP .45 ACP semi-automatic pistol. The KRISS Vector uses asymmetrical recoil and in-line design to reduce recoil and muzzle climb. Unlike any other firearm ever invented, instead of having all the recoil force slam back into the shooter's shoulder, causing massive amounts of felt recoil and resultant muzzle climb, the KRISS System absorbs and redirects these forces downward and away from the operator thus enabling him to better control and keep the KRISS firearm on-target.
Appearances
Edit
Community content is available under
CC-BY-SA
unless otherwise noted.