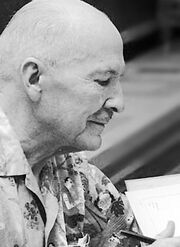 Robert Anson Heinlein (July 7, 1907 – May 8, 1988) was an American science fiction writer. Often called "the dean of science fiction writers", he was one of the most influential and controversial authors of the genre. He set a high standard for science and engineering plausibility and helped to raise the genre's standards of literary quality. He was one of the first writers to break into mainstream, general magazines such as The Saturday Evening Post, in the late 1940s, with unvarnished science fiction. He was among the first authors of bestselling, novel-length science fiction in the modern, mass-market era. For many years, Heinlein, Isaac Asimov, and Arthur C. Clarke were known as the "Big Three" of science fiction.[2][3]
Heinlein was a notable writer of science-fiction short stories, and he was one of a group of writers who were groomed in their writing by John W. Campbell, Jr. the editor of Astounding magazine—though Heinlein himself denied that Campbell influenced his writing to any great degree.
Within the framework of his science fiction stories, Heinlein repeatedly integrated recognizable social themes: The importance of individual liberty and self-reliance, the obligation individuals owe to their societies, the influence of organized religion on culture and government, and the tendency of society to repress non-conformist thought. He also examined the relationship between physical and emotional love, explored various unorthodox family structures, and speculated on the influence of space travel on human cultural practices. His iconoclastic approach to these themes led to wildly divergent perceptions of his works and attempts to place mutually contradictory labels on his work. His 1961 novel Stranger in a Strange Land put him in the unexpected role of a pied piper of the sexual revolution, and of the counterculture, and through this book he was creditedwith popularizing the notion of polyamory.
Heinlein won Hugo Awards for four of his novels; in addition, fifty years after publication, three of his works were awarded "Retro Hugos"—awards given retrospectively for years in which Hugo Awards had not been awarded. He also won the first Grand Master Award given by the Science Fiction Writers of America for his lifetime achievement. In his fiction, Heinlein coined words that have become part of the English language, including "grok" and "waldo", and popularized the term "TANSTAAFL".&nbsp

Writing of the Starship Troopers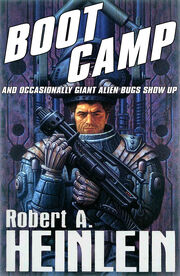 Some time during 1958 and 1959, Heinlein ceased work on the novel that would become Stranger in a Strange Land and wrote Starship Troopers. It was first published in The Magazine of Fantasy & Science Fiction in October and November 1959 as a serial called Starship Soldier. Although originally written as a juvenile novel for New York publishing house Scribner, it was rejected, prompting Heinlein to cease writing juvenile fiction for Scribners, to end his association with them completely, and begin writing books with more adult themes. The novel was eventually published as teenage fiction by G. P. Putnam's Sons.
According to Heinlein, his desire to write Starship Troopers was sparked by the publication of a newspaper advertisement placed by the National Committee for a Sane Nuclear Policy on April 5, 1958 calling for a unilateral suspension of nuclear weapon testing by the United States. In response, Robert and Virginia Heinlein created the small "Patrick Henry League" in an attempt to create support for the U.S. nuclear testing program. During the unsuccessful campaign, Heinlein found himself under attack both from within and outside the science fiction community for his views. Starship Troopers may therefore be viewed as Heinlein both clarifying and defending his military and political views of the time.[7]