Fleet

Type

Space Navy

Affiliation

United Citizen Federation

Part of

Headquarters

Race

Commanders

Notable
members

Carmen Ibanez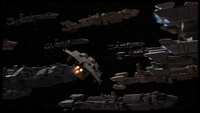 The Fleet is the aerospace warfare service branch of the United Citizen Federation, serving as an air force and as a space armada.
Training:
Edit
The Fleet Academy is located on Earth's Moon at Tereshkova Base. Flight training lasts roughly as long as Mobile Infantry boot camp. Those with exceptionally high marks are assigned as pilots for Corvette Transports or F-76 Thunderbolts. Those who do not score as high are assigned to the many other roles on the ships, such as engineering, maintenance, and weapons systems.
Divisions:
Edit
Uniforms:
Edit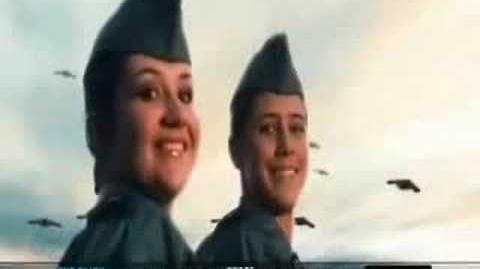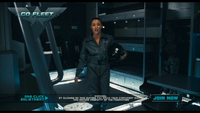 The dress uniforms for Fleet officers are light grey tunics and garrison caps. On their right arm is a cuff title that has the name of their ship. When on duty, Fleet crewmen wear simple dark grey or black jumpsuits. In the event a Fleet officer sees combat on the surface, they wear BDUs (Battle Dress Uniform) similar to the Mobile Infantry's; the only difference is that the helmet and armor are black and the chest plate has the Fleet badge.
During the Second Bug War with the introduction of Power Suit, Fleet's uniforms were updated to include an inner suit that could function within a vacuum or area without breathable air in conjunction with seal-tight helmets.
Capital Ships
Edit
Small Craft
Edit
Bases and Stations
Edit
Appearances
Edit
Community content is available under
CC-BY-SA
unless otherwise noted.