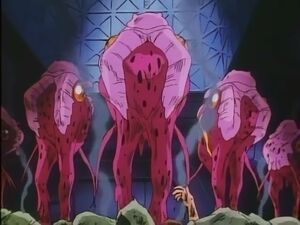 The "Extraterrestrial life form" (異星生命体 Isei Seimeitai), or "Alien life form", is a life form from outer space and is hostile to the human.
The home planet of the Extraterrestrial life form is Glendathu, a planet covered with massive protophyte jungle.
Castes
[
]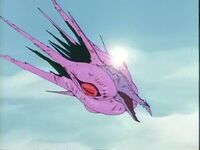 "Base" (基地 Kichi)[1] – A gigantic cluster of the Bug, able to spread out "spores".
"Transport" - Much similar to the "base", a transport is capable of space flight and travel through the cold vacuum of space.
"Warrior" – A bipedal polyp-like creatures possessing tentacles and integrated biological weapons capable firing beam or globules of a sticky explosive compound at high muzzle velocity.
"Fighter craft" (戦闘機 Sentoūki)[1] – as its name suggests, this type of alien acts like a fighter craft.
Notes
[
]
Appearances
[
]
References
[
]